STEM (120 capsule) Bottle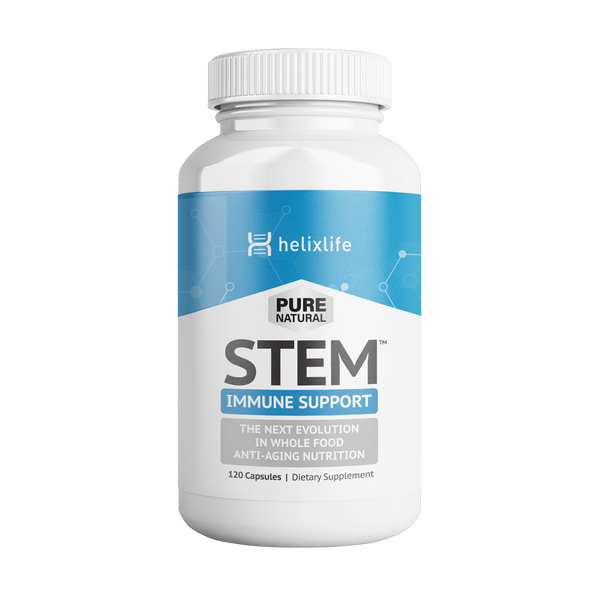 STEM™ is the next evolution in wholefood anti-aging supplementation
With STEM™, your search for the nutritional "Fountain of Youth" just took a major step forward as we bring you the most effective freeze-dried whole food to help increase the potency and efficacy of the natural stem cell activity in your body:  Fibroblast Growth Factor (FGF).
The most powerful source of FGF available, STEM™ sends a signal to dormant stem cells to activate and start repairing and replacing damaged or dead cells.  As an adaptogen dietary supplement STEM™ may produce a broad array of benefits, anywhere there is damage or degeneration, whether from physical trauma or gradual chemical or toxic damage to tissue, shifting from a degenerative to a regenerative state, activating your wellness.
*Save almost $30 every month simply by choosing to be an Autoship Customer.  By purchasing at this discounted rate now, you agree to pay for and accept monthly shipments of this item, approximately every 30 days. Your product is effortlessly shipped to you now and monthly when you select this convenient option! 
Download Brochure
BENEFITS
The following are POTENTIAL benifits:
Promote Higher Energy Levels

Improve Mental Focus

Strengthen Memory

Enhance Mood

Improve Overall Health
USAGE
Serving Recommendation:

Take one to two capsules, twice daily, preferably with meals. No artificial flavor or sweetener, no preservatives, no sugar, no fish. Sodium free. Keep out of reach of children. Store at 15-30°C (59-86°F). Protect from heat, light and moisture. Do not purchase if seal is broken or missing.

Keep out of reach of children.
SUPPLEMENT FACTS
Feel great again!
We believe our bodies are designed to function at an optimal level. We are dedicated to sharing nutritional and energy wellness products that produce life-changing results.