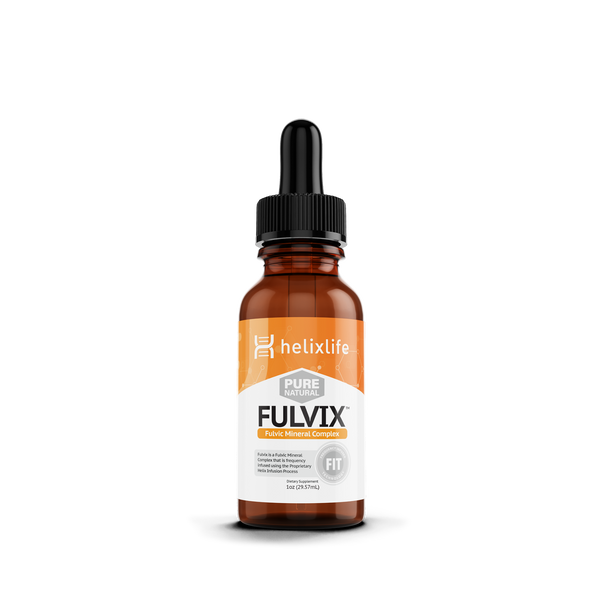 FULVIC
MINERAL COMPLEX
Helix Life's newest blockbuster nutritional formula called Fulvix, is the world's highest grade, concentrated and most potent fulvic mineral complex available!
The Fulvix™ USA-based harvest source is a naturally formed deposit that is comprised of both marine nutrients and land plant matter that was formed millions of years ago, uniquely shrouded by a protective canopy layer of Iron ore.

Fulvix™ is extracted from its original natural organic source using a proprietary non-chemical, minimally invasive harvesting technique. The unique raw complex is then allowed to cure in place for a minimum of two full years. Fulix™ concentrate is the brought forth using a green water-based extraction process that yields a very vibrant, nutrient-rich formula that's a delight to use on a daily basis.

The amazing natural deposit used to manufacture Fulvix™ consists of Nature's most complex substance containing the remnants of prehistoric life. These natural blessings include: minerals, trace minerals, trace elements, vitamins, amino acids, organic acids, fulvic and humic acid, phytochemicals, natural sterols, hormones, fatty acids, polyphenols, and ketones including flavonoids, flavones, flavins, catechins, quinones, isoflavones, tocopherols.
Our Fulvic Mineral Complex is frequency-infused using our proprietary Helix Infusion Process.  Fulvix provides up to 72 naturally occurring trace elements and 18 amino acids.  Each one-ounce bottle contains 60 servings.
BENEFITS
The following are POTENTIAL benifits that the natural ingredients in Fulvix MAY HELP the body with:


Optimizing Nutrient Absorption by shuttling more sugars and carbohydrates to the muscle groups, rather than into fat storage.
Increased Antioxidant Capacity by its ROS scavenging capacity (reactive oxygen species).
Binds Toxic Heavy Metals by chelating them for elimination via the bowels and urinary.
Increasing Stamina by helping mitochondria to produce more ATP to enhance respiratory function.
Maintaining Blood Glucose levels by regulating glucose absorption.
Restricting Fat Build-up by down regulating the glucose receptor sites in the stomach.
Increased Liver Efficacy by decreasing the breakdown of glycogen to glucose thus helping to prevent insulin resistance.
Regulating Cholesterol by inhibiting pancreatic cholesterol esterase resulting in cholesterol lowering activity.
Inflammation by preventing the production of inflammatory molecules such as cytokines – also may offset allergic induced inflammation.
Immune System Balance by helping to regulate the immune response from becoming over-active.
USAGE
Serving Recommendation:

Place 10 drops in fruit juice, vegetable juice or purified water.

Keep out of reach of children. Do not place directly in the mouth. Do not mix with chlorinated waters.
SUPPLEMENT FACTS